Kia Orana

Matriki Beach Huts is a small, budget hideaway situated right on the beach, on the North West coast of Aitutaki in the Cook Islands. We specialize for the adventure traveler. We offer four units in total. There are three beachfront huts, first being the Beach Hut; this a stand alone beach hut, with kitchenette and outdoor shower under the stars. The second and third beachfront huts are in our Treehouse, which has an upper and lower hut. The Treehouse huts also each have a kitchenette and their own outdoor showers. All three beachfront huts share a toilet facility set back 30m from the beach. The fourth unit is the Garden Unit, with its ensuite shower and toilet. It's 'on the beach' but set back just 30 meters behind a little garden. Matriki beach offers fine white sand, all-tide swimming, excellent snorkelling and glorious sunsets.

Matriki Beach Huts is built on family land and is Cook Islands Tourism accredited. Your host, Matthias & Riki, live at the back of the property and are there to help you enjoy your holiday.

Matthias offers a variety of boating adventures on the lagoon and outside the reef - snorkelling, fishing, motu drop-offs, lagoon cruises, and turtle - whale watch and so on.

We are a short walk from several good restaurants and a short ride from the grocery stores, wharf and town centre. Scooter and bike hire as well as lagoon cruises can be arranged for you.

If you are looking for simple living with a stunning yet peaceful outlook, Matriki Beach Huts is for you ...

Kia Manuia
Riki & Matthias

garden unit ...
your host ...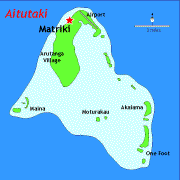 our location ...
treehouse view ...
Guest Comments

13th to 25th May, 2012
We loved every minute over here.We had a couple of good days with lots of sunshine , but the last days were rain all the time, but it didn't matter. We came here to relax and that is what we did. The sunsets are perfect with all the red and pink colours. The lagoon cruise was wonderful as well – snorkelled for the first time and it was beautiful.There are so many different types of fish out there- amazing. Matthias is a good host who knows everthing about the sea,lagoon and the island. Thank you for a wonderful stay!
Chantal and Robbin (The Netherlands)

24 March to 1st April 2012
After much research I chose Matriki for a wonderful holiday. Loved every minute of my time on the island, especially the lack of crowds, empty white beaches, the snorkelling meters from the our hut,the swaying coconut trees and the fabulous fellow 'hutters' from Matriki. Matthias was really kind and helpful and his lagoon cruise was out of this world. The negatyives were the hoards of mossies and my daughter didn't appreciate the roosters waking her up every morning. But these issues pale in significance with the happy times we had. My heart,my mind and my soul have been healed during my ten days on Aitutaki.
Lara and Jenna-Mae Cottey

4-6 Feb 2012
We enjoyed thew time at Matriki- wonderful simple huts – great value. Thank you for this beautiful place.
Pat and Christiane from Berlin (Germany)

30August – 4th September 2011
Calm and tranquillity, simplicity with character. Very much our kind of place. I concur with all the superlatives that have already been written so no need to duplicate. The anly negative thought in my mind is that as I write this I know that soon I shall take my last look across the lovely lagoon, lock it into my memory and say goodbye – until the next time!
John and Nathalie, Westoning (UK)

21st July 2011
We've had six days on Rarotonga and 3 nights here- we will doit the other way around next time! Loved the hut – had everything we needed and the view and being able to step straight onto the beach was fantastic. It's been hard to get my son Jamie (14yrs0 out of the water – loved the snorkelling. We have really enfoyed our stay , the friendliness of the Aitutakians and the laid back feel and attitude, let alone the stunning island. Hope to be back.
Helene and Jamie Boulton, Nelson (NZ)

28/7 -3/8 - 2007
Never in my wildest dreams did I think Aitutaki – anywhere in the world for that matter – could be this beautiful. This is really paradise. The hut is in a great spot – every night I kept the door open so I could wake up to the view of the lagoon. Matthias lagoon cruise was a fab day, really personal, great lunch, and I finally faced up to my fear of fish – the snorkeling was wonderful. Thank you Riki – great massage – Matthias + Keegan for helping to make this a trip I will never forget + hopefully will return some day.
Lou (UK/Sydney)

4-7/7/07
Wow this place is absolutely fantastic and our wildest dreams and expectations more than fulfilled!! This place has a dream location and the 'tree house' a wonderful charm. It's just what we wanted. Life here is so peaceful and relaxed, although a local rooster has tried his best to stir up some early hours life – we truly hope to be back some day.
Many thanks from sisters Torill Dohl and Meret Dohl Rimer, Norway



21-28/6/07
Like heaven on earth. Right on the most beautiful beach. Awesome snorkeling, great coral life out there, fantastic trip with Matthias, the clams where amazing, pretty rough outside the reef but Dave still got in for a snorkel. If you want to go game fishing call up Mike & Mere – the neatest people. Dave caught 3 tuna. Everyone so friendly wherever you go. We tried all the restaurants + the one that hasn't been mentioned is the Boatshed – awesome seafood platter for 2. Everything we had been told about this place is true and we will be back.
Dave and Gayle Richardson, Taumarunui NZ



4/6 -11/6/07
We stayed for 7 nights – apart from the lagoon, snorkeling off the islands, beautiful weather etc, we actually had a great group of people here at the time – BBQ feast with freshly caught tuna and chicken under the stars. Fed the leftovers to the hermit crabs. We should have spent more time here than on bloody Rarotonga, because it truly is the island paradise you are looking for.. Did Matthias cruise – was worth it – more personal and not so touristy as the bigger boats. Loved the giant clams, rays and turtles, the little fish – the lagoon is like a big swimming pool. We love it here and will recommend it online ( it doesn't appear in Lonely Planet Guide) My friend the cheeky gecko will miss me and if that rooster is still here say hello from me - the one that crows at 6am.Thanks Matthias for being a host, not just someone you rent from.
Annemarie and Ian, Refugees from Sydney



19/6/07
Well I've read through all the comments in all three books (we stayed upstairs, downstairs and in the separate hut) and can join in the chorus of admiration for both Matriki and Aitutaki. Before we arrived we were told by Rarotongan locals that 9 days was way too long to spend on Aitutaki – but they were wrong! We actually felt quite busy scootering around, eating hamburgers at Kuku's, island night at Samade, rocking at the Coconut Crusher Friday night, hiking around the trails, snorkeling, swimming and lazing around. Of course a trip on the lagoon is a must. Absolutely beautiful.
See you again soon. Jessica and Dan, Toronto, Canada



29th May 07
We only spent 5 days here 3 years ago – so this time we arranged 2 weeks, still not enough! Snorkeling on the reef here is the best on the island – apart from off a boat in the reserve. The trip with Matthias was excellent. After a couple of weeks the tree house felt like home and we are sad to leave.
Nora and John, Melbourne Aus


1/2/07
Before we came I was concerned that it would not be so completely idyllic as I imagined it to be from the website – I need not have worried, it has been fantastic, everything I hoped for and more. The snorkeling is great, the kayaking out at Outo is stunning and the game fishing ( went with Jason) was successful. Finally a big thanks to Matthias – the BBQ with all of us and the fish we caught was great.
Nick and Jenny Vince, Wales UK

21-28th Nov/09
Last week of holidays,35th wedding anniversary, one week of lying in the sun before north for winter. Awesome little hut an the beach. Exceeded our expectations. Impossible not to just relax and enjoy. A must do is the snorkelling with Matthias. Not only a great guide, hell of a boat captain, he can cook as well.
Riki and Keegan, it has been a pleasure. Thanks for letting us visit your island. 5 stars!
Mike and Ellen, Port Renfrew, BC, Canada

Dec 5th,2009
Second visit, as enjoyable as the first! Matthias' lagoon trip is a very best on the island! We shall return! See you three very soon
Martine Habib & Hillary Hart, Woodville, USA


16/12/2009
Our last day in Aitutaki! And the last day of 1.5years of travelling before the long journey home to Finland. We have had a wonderful stay here in Aitutaki - stayed the first 5 nights in the Garden Unit and the rest of the time in this little lovely beach hut! The 2 1/2 weeks have gone past sooo fast. Thanks a lot for your wonderful snorkelling trip which we attended twice - we should recommend it to anyone. We will miss the lagoon, watching the sunsets, cute hermit crabs and funny crabs climbing up to the roof. Hopefully we can return on our next trip. See you again
Sonja & Jaku, Finland



8-29/03/10
Matthias1 You have manage to create the paradise here on Aitutaki,this beautiful island in the Cook islands. I and Mikael have had the most lovely and beautiful time in our life, and to wake up every morning with this picture is amazing.
And Matthias, you are a lovely person and a great host and to all of you aiming to matriki,you will never forget. The snorkeling tour with Matthias is amazing and the food he make is unforgotten ...we did it twice!
We have now been here for two and half weeks and should stay 5 more days and we are already sad to leave. This beach hut is the best home a 'man' can get. If we could we have taken it with us home to Sweden....we have been travelling a lot but never had this experience, this is the best, outstanding!
And Matthias, may the sun allways shine on you wherever you lay your hat....maybe we meet again-
"One love" Mikael & Maria Xorigue